Are you a music guru? Become an A&R with Record Union
Our A&R Program gives you a unique oppurtunity to support your local music scene and help artists from your network.
A&R's are ambassadors for Record Union who engage with talented artists and explain what we offer. The artists get started with introductory discounts and you get paid.
What is an A&R?
Music labels have A&R representatives to find and sign new artists. But at Record Union, we're proudly independent.
So our A&R's engage with independent artists and act as ambassadors for Record Union. Our A&R's guide artists to our distribution and promotion services and offer them great introductory discounts.
The A&R role is open to people and organizations who are involved with music. If you have experience with digital media and promotion, that's a bonus.
When you recruit artists to Record Union, you earn money every time their music gets streamed.
The best part: Your A&R comission does not affect the artists' royalties! We pay you separately.
If you have a big network in your music scene, you'll be perfect as an A&R
Your good reputation makes you a great A&R rep?
Recording studios: Show your clients how they can release the tracks they cut in your studio.
Label owners: You can't work with every artist, but now you can show them how to release their own music.
Social media personalities: Recommend us to the music makers in your audience to help them spread their work.
Music shops: Let your customers know how they can get their music out of their basement studios and into the world.
Promoters, booking agents and managers: Help new artists connect with us to distribute and promote their music.
Recording studios
Music bloggers
Promoters
Connectors
YouTube personalities
Independent labels
Music shops
Get rewarded when you help artists distribute and promote their music with Record Union
Recruit more to earn more
When you help new artists find Record Union's distribution and promotional tools, the artists get special discounts and you earn some extra cash.
The more artists you sign up, the more you can earn. When an artist you recruit begins earning royalties from their releases, we'll share part of our comission with you.
As an A&R, you can earn up to 7.5% of the royalties earned by the artists you sign up. Your percentage goes up as you reach higher recruitment levels. We'll pay the comission directly to your A&R Account.
When you're logged in, you can keep track of your recruited artists, help spread their music and collect your earnings.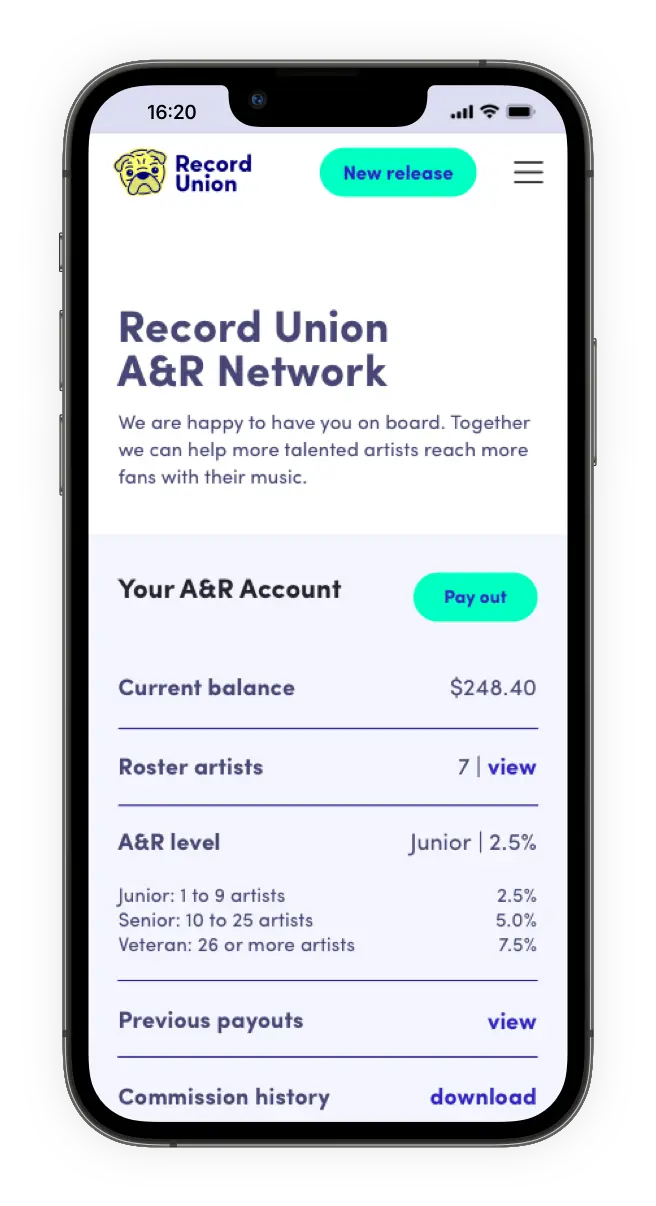 Be sure to review the Terms and Conditions. Participation in Record Union's A&R Program depends on compliance with these rules.